Trelliswood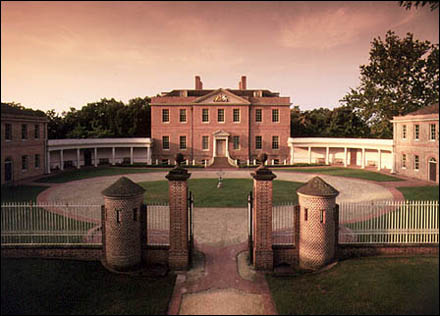 A View of the Manor at Trelliswood
Family In Residence
Lady Rose is unmarried, a spinster, but her younger sister, Janet, is not. Rose has opened Trelliswood to her sister's family, and they all live on the estate - Janet, her husband Francis Blankenwell, and their three children, Francis Jr., Aemilia, and Geoffrey.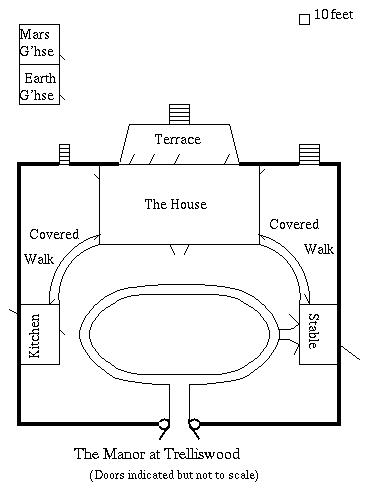 The Manor

The current Manor dates to the mid-1700's and is very representative of the style. A decorative fence fronts the Manor courtyard, and stone walls complete the enclosure. Behind the Manor House, the ground slopes away toward the Flume, allowing a terrace to jut out on the ground floor with a grand view of the gardens and river below.

The kitchen building is still in use, although Lady Rose's grandfather George had a small kitchen built in the House, and that kitchen is currently used for most of the small family meals. For days when there are guests, or the Village Treat, the full kitchen is used.

The stables, of course still see heavy use.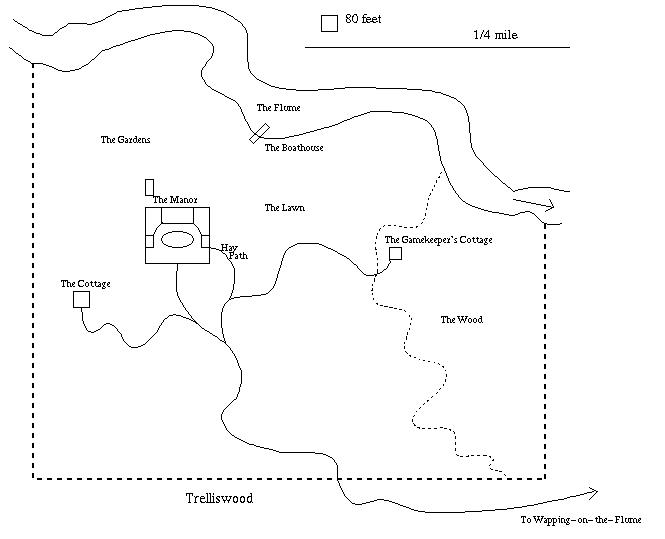 The Grounds
The main estate grounds are pictured above. The Manor is, of course, home to Lady Rose and to the Blankenwells. The Cottage is unoccupied at the moment. The Village Treat is held on The Lawn and also the areas in front of the Manor itself, along the drive. There are numerous sheds and so forth not marked on the map.
---
Last Updated 14 February 2002
Jeff Berry, nexus@panix.com
Hosted by avigne.org